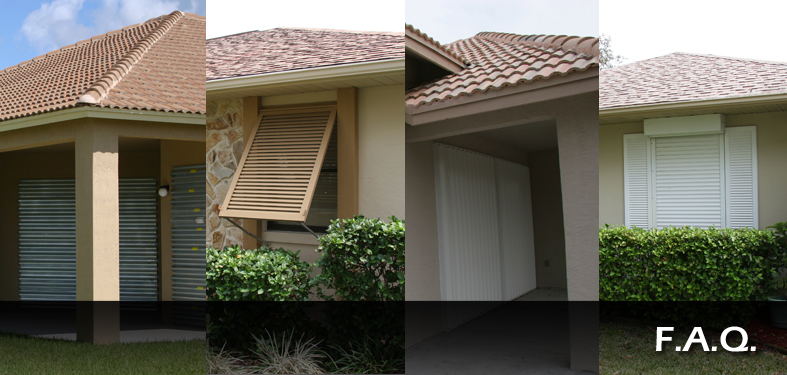 Frequently Asked Questions
Here is a list of the most commonly asked questions regarding Hurricane Shutters and the answer to each. If your questions are not all answered here please go to the contact us page and we will be happy to answer any additional questions you may have.
Can I have different types of Hurricane Shutters on my house?
Yes- You can have removable shutters downstairs and permanent on the second floor. You can have impact glass on the front of your house and shutters on the sides and back. There are literally endless combinations of shutters you can use to get the look and ease of deployment you need.
Will having Hurricane protection on my house help with my insurance rates?
Yes- Most insurance companies offer a discount when you have protected all of the glazed openings on your house. Sometimes insurance companies won't write a policy on your house if you are in the wind borne debris zone and don't have protection. You should contact your insurance company to determine their requirments and policies, in some cases they may require a inspection of your property. We supply our customers with any information required by your insurance company so that may receive the applicable discount.
Are Hurricane Shutters paintable?
No- Steel storm panels are available in white, but can not be painted after installation. Fabric comes in one color only (white) and your permanently mounted shutters (accordion, bahama, hinged colonial, and roll-down) come with a beautiful powder coat paint from the factory.
What colors are Hurricane Shutters available in?
That varies by the type of shutter. Steel and aluminum storm panels have a natural finish (unpainted). Fabric comes in an off-white color. Accordions and Roll-Downs are available in 4 different powder coat paint colors; White, Ivory, Beige, and Bronze. Bahama and Hinged Colonials can be painted just about any color you desire (we have a color chart with 212 choices) all high quality powder coat finishes.
What are the Storage Requirements for my Shutters?
This is a very good question and should be a big consideration when choosing your Hurricane Shutter system. Panels (all types) require an area for secure storage. They need to be kept inside (usually they take up an area in the garage). They can be laid flat or stand up (but if they stand up they need to be secured to the wall to insure they don't fall). Panels are very heavy and so they generally need to be stored on the ground taking up valuable floor space. Fabric Shutters on the other hand are very light and don't take up nearly as much space as panels. More importantly they are very light weight (3 ounces per foot compared with 1.5 pound per foot for 24 ga steel panels) so they can be rolled up and put on a shelf, in the attic, just about anywhere. Accordions, Bahamas', Hinged Colonials and Roll Downs are permanently mounted to the house so they require zero storage!
How long will it take to deploy my shutters before a storm?
That is hard to say. It depends on the size of the house (number of openings to cover) how many people are helping, is it a 2 story and of course the type of shutters you have. To try and put it into perspective; the time for deployment of a standard 3 foot by 5 floor first floor window by one person would be;
Steel Panels – 30 minutes
Aluminum or Clear Panels – 30 minutes
Fabric Shutter – 10 minutes
Accordion / Bahama / Roll-Down – 2 minutes
So you can get an idea of the magnitude on your house. Remember 2nd floor windows will take longer with panels.
How long after I order my Shutters until they are installed on my House?
This depends on a couple of factors but generally speaking; once you have placed your order it will take 2-3 weeks for the shutters to be manufactured and shipped to your location. Then generally 1-2 days for installation, so within 4 weeks of placing your order you could have shutters. For Roll-Downs / Bahamas / Hinged Colonials the lead time is longer so figure 6 weeks for those shutters. The point, don't wait until there is a storm. You need to prepare ahead of time!
What is the "Test" that qualifies a Hurricane Shutter?
There are a few different qualifications (depending on the state you are in) but the test is basically the same for all of them. There are 2 types of impact test (large missile and small missile) we recommend you only look at products that meet the large missile impact (all of ours do). We have included a link to the large missile test so you can see it in action. All tests are preformed at an independent testing lab; in Florida you need to meet the Florida Building Code for High Velocity and non-High Velocity (the test criteria is exactly the same the only difference is allowable deflection). In North Carolina and South Carolina you have to meet the ASTM Standard, exactly the same test as the Florida Building Code but with more test cycles, that is the pushing and pulling to simulate hurricane force winds. And in Texas you must meet the TDI (Texas Department of Insurance) requirements; they are the same standards as testing for ASTM. If you live in a state not mentioned, typically they will accept either the Florida Building Code or the ASTM testing requirments.
Can I get Shutters that I can deploy from the inside so I don't have to use a ladder?
Yes- As long as the window opens we can fit it with a shutter you can close from the inside. Check with you representative for the shutter system that is right for your application.
I hear a lot about Miami-Dade Shutters? What are they?
This is a great question and the point of much confusion. Miami Dade used to be the only standard there was, but now the State of Florida has adopted their own test criteria. There are two diiferent hurricane zones in Florida; 1) the High Velocity Hurricane Zone (HVHZ) which is Miami-Dade and Broward counties and the non-High Velocity Hurricane Zone (non-HVHZ) which is made up of the remaining Florida counties. What makes the HVHZ zone different from the non-HVHZ is simply deflection. Deflection is the distance the shutter can move upon impact. In HVHZ that deflection can not exceed 3 inches. Why does this matter? Because the code in this area does not allow for the glass in the window or door to break. In order for that to happen even with 3 inches of deflection the window or door must be recessed from the back of the shutter by a minimum of 3 inches. It is a very confusing and generally misunderstood aspect of hurricane protection that the glass won't break. 
I don't live in Florida; can I get shutters from GPP Enterprises?
Yes- We have a hand picked distribution network in the coastal states from Texas to Rhode Island. Go to our Find a Distributor page and input your zip code, a distributors contact information will come up.
I would like to add Security to my home; will your Shutters do that?
Yes- Our permanently mounted shutters are a great way to add security to your home, especially vacation homes that you don't live in year round. Simply close them, lock and feel secure that your home is protected from storm and intruders until you return.
What do Hurricane Shutters Cost?
Hurricane Shutters vary in price depending on type and size, additionally every application is a little different so for a accurate quote, contact one of our friendly sales representatives to receive an on site estimate. You can also use our on-line estimating form to get a  general idea of the cost of different types of shutters. Get your opening sizes ready (in inches) and click here to get started.